May 12, 2021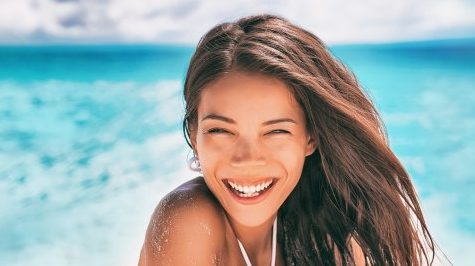 Backyard barbecues, pool parties, trips to the beach—summertime is finally here! There are many memories to be made this sunny season, which means there will be lots of laughter, joy, and smiling.
A beautiful, sparkling smile can make a big difference during your leisure time, helping you look and feel your best. If you've ever considered investing in a brighter smile, now is a perfect time. Here are a few reasons why teeth whitening in Columbus can benefit you this season.
Special Occasions
There are many special occasions to look forward to in the next few months. Whether it's a graduation, wedding, or an annual trip, you'll want to look your best when these remarkable summer moments are being captured.
Are you uncomfortable showing off your teeth because they're stained and yellow? Teeth whitening will have you flashing your pearly whites any chance you get, and you can look back on your pictures and marvel at your dazzling smile.
Summer Vacation
Vacation season has arrived, and whether you're traveling overseas or embarking on a three-hour road trip, your friends and family are going to want to take lots of photos to capture your adventures. Don't let a discolored smile hold you back from showing off your grin. Getting your teeth whitened is an easy and simple procedure that can help you achieve a whiter smile in no time, so you can make the most out of your trip.
Smile with Confidence
Do you ever hold back from smiling because of tooth discoloration? Don't worry, you're not alone—it's normal for teeth to get stains over time. Coffee, tea, wine, smoking, or even just age and genetics can cause staining. Fortunately, professional teeth whitening treatments can remove those stains and help you regain confidence so you can feel comfortable showing off your blinding, new smile in all your summer selfies and family photos. You're bound to spend more time with people in the coming months—be ready to impress and invest in a dazzling, new grin.
Summertime is the season for making long-lasting memories, and having a bright, beautiful smile will make it a summer you'll never want to forget.
About Third Street Dental
Third Street Dental provides families in and around German Village with individualized, high-quality dental treatments. They take the time to discuss smile goals and custom-tailor each appointment to meet your unique needs. They offer take-home and in-office teeth whitening treatments to help you quickly achieve the bright, white smile you desire. Want to know more? Schedule a consultation via their website or by phone at (614) 228-4850.
Comments Off

on Why Summer is the Perfect Time to Get Your Teeth Whitened
No Comments
No comments yet.
RSS feed for comments on this post.
Sorry, the comment form is closed at this time.