September 4, 2021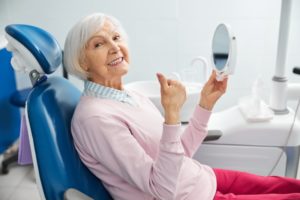 When considering a new car purchase, most people come up with an array of questions they want to ask at the dealership. It's an important decision, so why not cover all the bases?
It makes a lot of sense to also prepare when you are considering a specific treatment with your dentist. Take dental implants, for example. They entail a surgical procedure with a financial investment for a lasting goal of smile improvement, so it's worth your time to educate yourself.
Before a consultation with your dentist to discuss dental implants in Columbus, review the list of must-know terms below.
Abutment
An abutment is attached to the top of your dental implant or built into it. Serving as a connector, it keeps the replacement tooth, crown, or bridge firmly in place.
Ceramic
Used to form dental implants, ceramic is made of clay and hardened by heat. Ceramic offers a natural look, it is available with conical threading at the base for easier attachment to your jawbone, and it's ideal for patients with a metal allergy.
Crown
If you have lost or broken a tooth due to an injury or health problem, your dentist can fit you with a crown to replace the visible portion of that tooth. Crowns typically go over your existing teeth, which must be ground down to fit or the crown attaches to the abutment of a dental implant.
Endosteal Implant
This is the most commonly utilized implant in modern dentistry. A dentist will place small screws, plates, blades, or cylinders into the jawbone during a surgical procedure. Each implant can accommodate at least one prosthetic tooth.
Eposteal Implant
This implant rests directly on the jawbone to create support. Though it is often seen as an outdated way of placing an implant, when the risk of advanced bone reabsorption is high for a patient, a dentist may opt to use it.
Osseointegration
This term refers to a biological process that enables a dental implant to fuse with your existing bone, improving the strength of the bond between the two.
Subperiosteal Implant
This type of implant sits on top of the jaw with the posts of the metal framework protruding through the gum to support the prosthetic tooth. A dentist may opt for this method if a patient is unable to wear conventional dentures or has minimal bone height.
Titanium
Titanium melds with bone to produce a stronger, lasting implant. The material used for most modern implants, titanium is lightweight, durable, and few people are allergic to it.
Zirconia
This type of implant can be better for gum health than titanium. It is white, so it looks like a natural tooth. For the small percentage of patients who are allergic to titanium, zirconia offers an alternative.
Now, you're familiar with some common dental implant terms you should know when considering treatment. If you need a refresher, however, your implant dentist will be happy to explain any of them in-depth during your consultation. Don't hesitate to speak up when your smile is the topic of conversation!
About the Practice
At Third Street Dental, we strive to offer you personalized attention and top-notch customer service while also implementing the latest techniques and technology. Whether a treatment is for you or your child, we take pride in providing honest dentistry. If you are interested in dental implants, know that we are partnered with the best specialists in the area for implant placement and we offer high-quality implant restorations to address one missing tooth or all teeth. For a consultation, visit our website or call (614) 228-4850.
Comments Off

on 9 Need-to-Know Dental Implant Terms
No Comments
No comments yet.
RSS feed for comments on this post.
Sorry, the comment form is closed at this time.