May 10, 2022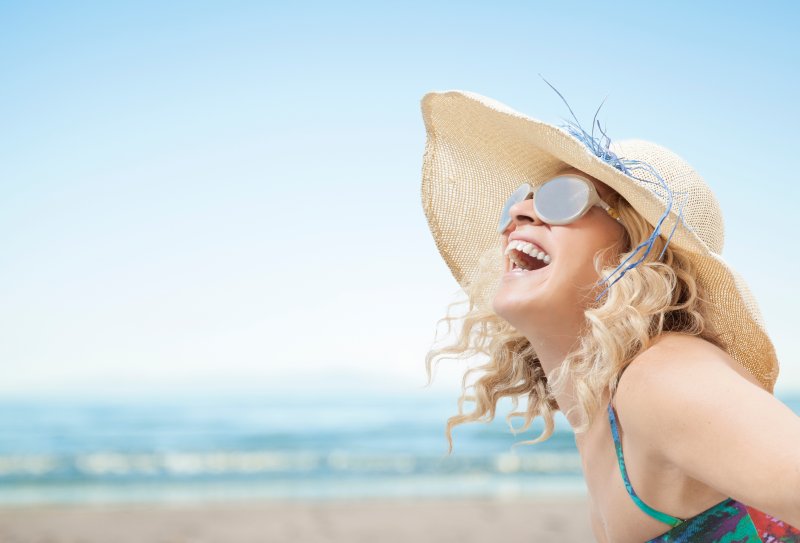 Are you planning on visiting the beach this summer? If so, you'll want to make sure you look your best while having fun in the sun! But have you considered getting cosmetic dental treatment to enhance your smile? While there are several ways to brighten your pearly whites, veneers can offer the ultimate makeover. Keep reading from your dentist in Columbus on five ways this procedure provides the beach-ready smile of your dreams!
#1: Conceals Stains
Porcelain veneers are wafer-thin shells that are attached to the front of your prepared teeth. They are also made out of a non-porous material, meaning they are highly resistant to stains and discoloration. By cementing veneers to your smile, you'll be able to enjoy a virtually permanent tooth whitening solution.
#2: Closes Gaps Between Teeth
Having spaces in your smile can often feel awkward or embarrassing. You may also have an increased risk of accumulating plaque and bacteria, which can be detrimental to your dental health. With veneers, your dentist can redesign the size and shape of any affected teeth. This means they can close any gaps between your pearly whites to present a fuller and more attractive smile!
#3: Restores Minor Damages
Do you have minor imperfections in your teeth—such as chips or cracks? Instead of needing dental crowns to restore them, you can cover up mild damages with veneers. Once you have them, your new and improved pearly whites will function like natural teeth, which will also build your confidence.
#4: Makes Your Teeth Look Straighter
Although you might consider orthodontic treatment to address a crooked or misaligned smile, you can bypass the lengthy process with veneers. In just a couple of appointments, your dentist can correct your dental issues to create straighter-looking teeth. This procedure, however, won't shift them out of their position but will only change their front side appearance.
#5: Creates a Symmetrical Smile
Veneers can address most misshapen teeth by making them match the rest of your bite. By redesigning the shape of your pearly whites, you'll be able to enjoy a more symmetrical and aesthetically pleasing smile in the long run.
Speak with your dentist if you're interested in getting veneers for a beach-ready smile this summer! They'll be more than happy to discuss and create a treatment plan for your dental goals.
About the Author
Dr. Eric Buck earned his dental doctorate from The Ohio State University College of Dentistry. He's also a proud affiliate of several organizations like the Spear Education Society, the Academy of General Dentistry, and the American and Ohio Dental Associations. He offers a multitude of comprehensive and advanced treatments, including veneers to enhance your teeth. If you'd like to schedule a consultation, visit his website or call 614-228-4850.
Comments Off

on 5 Ways Veneers Offer a Beach-Ready Smile
No Comments
No comments yet.
RSS feed for comments on this post.
Sorry, the comment form is closed at this time.