July 14, 2022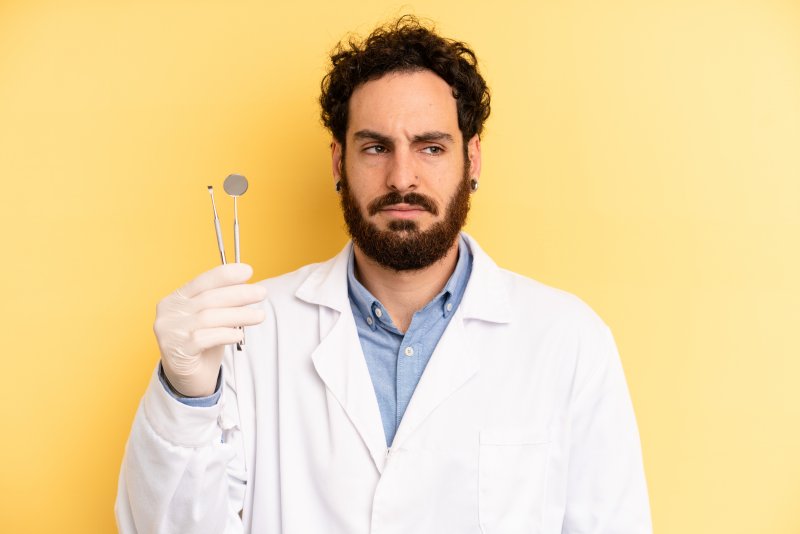 You probably think you have a pretty good grasp of cleaning your teeth. It's just a matter of brushing and flossing your teeth daily, right? What else is there to know? A lot, it turns out. Even if you remember to brush and floss, you could still be doing things that would make your dentist in Columbus cringe! That said, it's possible to correct these bad habits. Read on to learn four common teeth-cleaning mistakes and why you should avoid them.
Mistake #1: You Don't Brush at Night
It's essential to brush your teeth twice daily, but when those brushings happen is also relevant. For instance, you should really be doing one of them at night.
You see, a nighttime brush is crucial after cleaning your teeth in the morning. Since you're eating all day long, the practice removes bacteria and leftover food that's accumulated until evening. Thus, failing to do a nightly brushing often leads to dental problems.
Mistake #2: You Ignore Your Gums
As it turns out, your teeth aren't the only thing you need to be brushing. Your toothbrush should also apply to your gums.
Remember, the pink tissue can suffer problems too. If you don't brush it regularly, you'll likely develop gum disease and tooth loss. That said, the brushing needs to be gentle — too much pressure could damage your gums.
Mistake #3: You Rush Your Brushing
Did you know most people only spend forty-five seconds brushing their teeth? While that may sound like plenty, it's over a minute short of the recommended length of time. Professional dentists would prefer you brush your teeth for two minutes per session.
Still, easier said than done. Adults may be able (and willing) to make this switch, but it'll likely be challenging for children. If you have little ones who need to extend their toothbrushing time, consider getting them toothbrushes with light-up timers. These would remind kids to stick with the process and make it entertaining.
Mistake #4: You Only Brush Before Dental Visits
You may think you can just brush your teeth before dental visits, but that won't help. For starters, it won't undo the days, weeks, or months where your mouth didn't receive proper oral care.
Besides, you aren't going to fool a dentist in Columbus. We'll know you haven't been brushing properly when we see your plaque-inflamed gums. Plus, it's easy enough to spot lying.
As you can see, dental mistakes can happen pretty often. By knowing them for what they are, though, you can work to overcome them!
About the Practice
Third Street Dental Care is based in Columbus, OH. As led by Drs. Buck, Patel, and Hamza, the practice excels at transforming families' smiles for the better. That said, it offers preventive, cosmetic, and restorative dentistry, not to mention Invisalign and emergency services. The staff ensures these treatments' quality with dental technology like digital X-rays, intraoral cameras, and more. For more information or to book an appointment, you can reach them at their website or by phone at (614)-228-4850.
Comments Off

on 4 Dental Care Mistakes That Make Dentists Cringe
No Comments
No comments yet.
RSS feed for comments on this post.
Sorry, the comment form is closed at this time.