Dentures – Columbus, OH
Quickly & Seamlessly Replace Multiple Missing Teeth
If you're missing most or all your natural teeth, you already know that tooth loss can take a big bite out of your quality of life. It can make it so much more difficult to eat comfortably, speak clearly, and smile confidently. At Third Street Dental, we can quickly and seamlessly replace multiple missing teeth with beautiful full or partial dentures in Columbus! These reliable restorations have advanced by leaps and bounds over the years to become more lifelike, comfortable, and functional than ever before. Don't let missing teeth hold you back in life! Give us a call today to schedule your consultation and reclaim your smile!
Why Choose Third Street Dental For Dentures?
#1 Old-Fashioned Hospitality & Modern Dental Technology
#2 High-Quality Materials for Beautiful, Long-Lasting Results
#3 100% Personalized Restoration for Your Unique Smile
Who Is a Good Candidate for Dentures?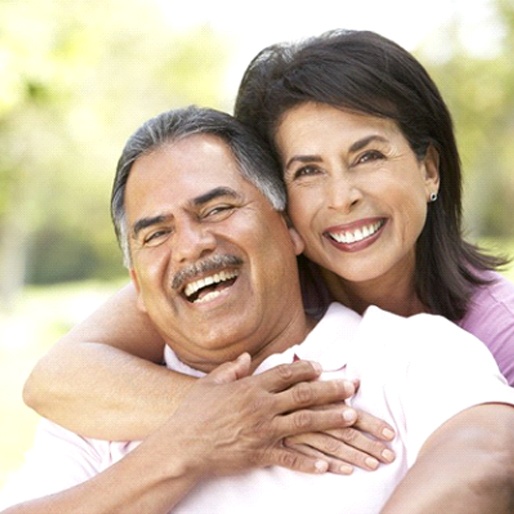 Dentures are a great choice for patients who are suffering from moderate to severe tooth loss. However, before you can be fitted for dentures, it's important that your mouth is healthy. Issues like tooth decay in your remaining teeth and gum disease can make wearing dentures uncomfortable and put your mouth at risk of serious oral health issues. Once you've completed any necessary preliminary treatments to address these problems, we can move on to completing your smile with dentures.
Types of Dentures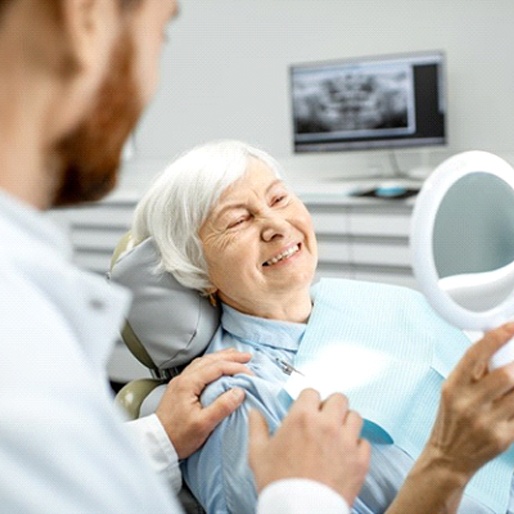 You don't have to be missing all your teeth to benefit from dentures! These custom-made restorations can be used to replace multiple missing teeth throughout the mouth as well as an entire arch of missing pearly whites. Depending on your oral health, personal goals, and the extent of your tooth loss, we may recommend one of three types of dentures: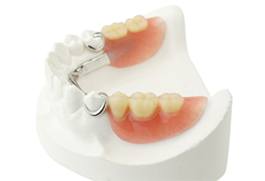 Partial Dentures
If you still have some healthy teeth left, a partial denture can help complete your smile. Sometimes called partials, this type of denture is designed to fit perfectly around and between your natural teeth much like a puzzle piece. Small metal wires and brackets around your remaining tooth structure support the denture and hold your new teeth in place.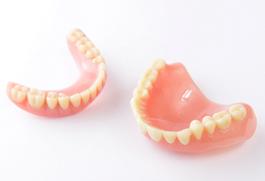 Full Dentures
To replace an entire arch of missing teeth right away and all at once, you'll want a full denture. For this option, your precisely crafted replacement teeth are set into a gum-colored acrylic base. Thanks to the close fit of the base over your gums, a strong natural suction is created to hold the denture in place while you talk, eat, and smile.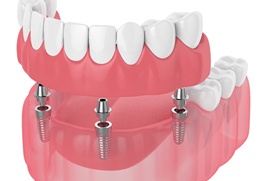 Implant Denture
The most modern type of denture is an implant denture. Instead of resting on your gums or relying on your remaining teeth, this type of denture is anchored firmly in place with four to six dental implants. These small metal posts are inserted directly into your jawbone to create a sturdy and stable foundation. During your consultation, we'll review your jawbone and oral health to see if you're a candidate for implant dentures.
Benefits of Dentures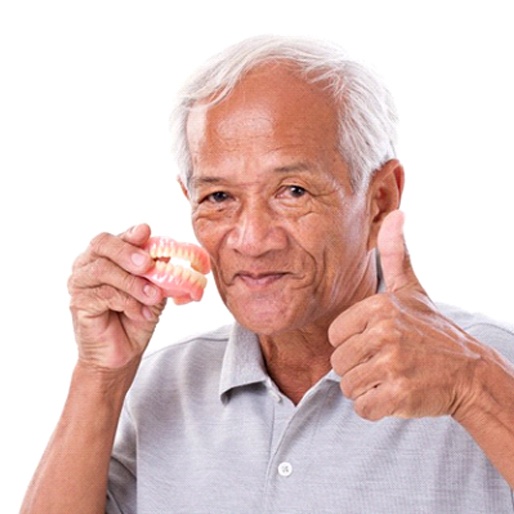 Dentures are a classic way to regain a complete, confident smile because of benefits like:
Fast results that can last for many years
Beautiful and natural-looking smile
Restored ability to eat a full, varied diet
A filled-out and youthful facial appearance
Cost-effective solution for overcoming tooth loss