December 30, 2020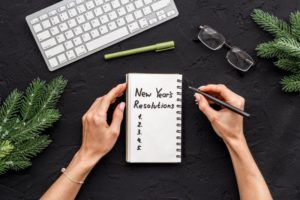 Like most people, you're probably happy to wave 2020 goodbye and looking forward to greeting 2021 with open, welcoming arms. Attempting to make this year better than the last is definitely worthwhile. If you're looking to instill healthy, new habits that make you feel better about your wellbeing, your dentist in Columbus can help. Read on to learn five great oral health habits to practice in 2021.
Don't Forget to Schedule Your Checkups & Cleanings
The American Dental Association recommends that everybody receive a checkup and cleaning once every six months in order to maintain healthy teeth and gums. During these visits, your dentist will capture X-rays of your mouth to see if anything is developing below the surface of it, conduct an oral cancer screening, and professionally clean your teeth to keep oral issues from developing down the road. By committing to making time for these appointments this year, you'll be taking a huge step towards maintaining great oral health.
Commit to Flossing Daily
Only about 32 percent of Americans floss every day. If you're a part of the majority of the population that doesn't floss daily, it's time to make a change. By cleaning between your teeth every day, you can drastically reduce your risk of developing cavities and other oral health problems.
Cut Back on Sugars & Carbs
Carbohydrates and sugars are two substances that harmful oral bacteria love to feed on. When they do, they're able to release waste in the form of toxins and acid that are known to result in cavity formation and gum disease. By limiting your consumption of these and substituting healthier foods, you can keep your smile healthy in 2021.
Kick Bad Oral Habits
Do you have bad oral habits like tobacco use or nail biting? These can stain your teeth and put you at-risk for needing an unexpected visit with your emergency dentist. By putting effort into breaking these habits in the new year, you can ensure that your mouth stays intact and healthy.
Eat a Well-Balanced Diet
Cutting back on sugars and carbohydrates is a great start to avoiding oral health problems, but when you make an effort to eat mouth-healthy foods, you'll be doing even more to make sure that your smile stays cavity-free in 2021. Be sure to eat naturally fibrous celery, chew gum with xylitol in it, and make sure to take multivitamins to ensure that your gums and teeth have everything they need to fight off the threat of decay.
Making an effort to build these five healthy habits in the new year is a great way to avoid the threat of oral health problems and rest-easy knowing that your smile won't be harm's way.
About the Practice
Our team at Third Street Dental is comprised of three experienced, passionate dentists who love to help improve their patients' oral health by providing them with dental education and high-quality treatment. From checkups and cleanings to dental implants, our team is able to keep the smiles of patients of all ages healthy and complete. To start 2021 off on a great note by scheduling a checkup and cleaning, visit our website or call 614-228-4850.
Comments Off

on 5 Ways to Boost Your Oral Health in 2021
No Comments
No comments yet.
RSS feed for comments on this post.
Sorry, the comment form is closed at this time.