January 22, 2021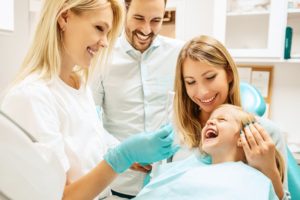 There are plenty of options to choose from when it comes to finding your next dental home, and you want to end up at a practice where you and your family can feel comfortable and welcomed. If you're taking your children there, you'll likely want to stick with them for a while as well. Your family dentist in Columbus shares five huge benefits that come with choosing a dentist who can care for not just your dental needs, but your family's as well.
Five Benefits of Choosing a Family Dentist
When you choose a practice to call your "dental home," it's a big decision that you want to be the right one. If you're a parent, then you also want to make sure that your children feel safe and comfortable when they visit as well. Seeing a dentist who can cater to your needs and the needs of the rest of your family can make your life easier in a multitude of ways. From scheduling to less uneasiness about checkups, here are five of the main benefits of seeing a family dentist:
Scheduling Is Much Easier
Your family probably has a busy schedule, and the fewer appointments you have in the books, the less stress you have to deal with. Between work, after school events, and sports practices, you don't need more to add to the list. Seeing a family dentist allows you to schedule checkups for your whole family on the same day, and even in the same time window, so that you don't have to take more time out of your week.
You'll Make Long-Lasting Relationships
Most children don't look forward to going to the dentist, but visiting a doctor who knows things about their lives and remembers their favorite color can make all the difference. Plus, a dentist who has a relationship with you and your family and knows details about your dental history can provide unique and tailored care.
Your Children Form Good Oral Hygiene Habits from the Get-Go
When you visit the dentist along with your children, they have the opportunity to see you making a point of taking care of your teeth. Setting this good example is a great way to set them up for a healthy smile for life.
A Family Dentist Has a Broader Range of Experience
A dentist who only treats adults has more expertise in that area. Choosing a family dentist who has experience treating patients of all ages can give you the confidence that your family's smiles are in good hands, no matter how old or young they are.
Dental Anxiety Ebbs
More than 35% of the world's population suffers from dental anxiety, and a large portion of those people are adolescents. Being able to bring your child to a dentist who is not only familiar but understands how they're feeling makes the process much easier for them.
While you're searching for your family's next dental home, make sure to consider all of the benefits that come with choosing a family dentist to keep your smiles shining bright.
About the Practice
The team of experts at Third Street Dental understands the importance of feeling at home and comfortable when choosing a family dentist. Their combined skills and years of experience with treating patients of all ages make them an excellent choice for your family's next dental home in Columbus. They have built their practice on trust and long-lasting relationships, and they can't wait to provide the highest quality of care for you. Are you ready to schedule your family's next dental checkups? Request an appointment online or call (614) 228-4850.
Comments Off

on Five Benefits of Visiting a Family Dentist
No Comments
No comments yet.
RSS feed for comments on this post.
Sorry, the comment form is closed at this time.