December 3, 2021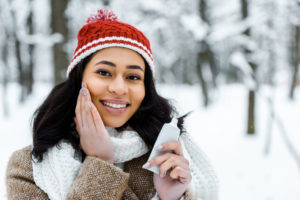 The end of the year is fast approaching! Have you made your New Year's resolutions yet? January 1, 2022, is the perfect time to begin new habits that improve your health and well-being. While you might be thinking about reading more books next year or training for a marathon, don't forget about your smile! Here are some ideas for New Year's resolutions that you can use to boost your oral health.
#1: Brush Better
Do you already brush your teeth twice a day? That's a great start! However, the key for next year is to make sure that you are brushing thoroughly. To remove as much harmful bacteria and plaque from your teeth as possible, be sure to:
Use a soft-bristled toothbrush and toothpaste with fluoride.  
Hold your toothbrush at a 45-degree angle to your gumline and brush using short, gentle strokes.
Clean the inner, outer, and chewing surfaces of your teeth.  
Brush for a full two minutes each time; set an alarm on your phone to help you keep track.
Brush your tongue as well for a fresher breath.
#2: Floss Daily
Make 2022 the year you finally embrace flossing! Plaque build-up in hard-to-reach places can easily lead to tooth decay and gum disease. Cleaning in between your teeth at least once a day is critical to removing tiny bits of food that your toothbrush can't reach. If you don't like wrapping floss around your fingertips, you can use a flossing device or an interdental brush instead.
#3: Make Healthier Dietary Choices
Many people begin diets in January in order to achieve certain weight-loss goals. However, being mindful of the foods and drinks you consume can also benefit your oral health. A smile-friendly diet might include:
Eating lots of fruits and vegetables
Limiting sugary or acidic foods and beverages
Avoiding snacks in between meals
Rinsing your mouth with water after meals or sugary drinks
#4: Stay Hydrated
Saliva provides the enamel of your teeth with minerals, neutralizes acids, and helps wash away bits of food and other debris. That's why it's important to stay hydrated and avoid dry mouth. Keep a refillable water bottle with you at work so you always have a drink nearby. You can also chew sugar-free gum to promote saliva production. Avoid heavy drinking of alcohol or using illegal drugs that can cause dry mouth.
#5: Quit Tobacco
Tobacco stains teeth and can increase your risk of many oral health problems. Nicotine is highly addictive, but professionals are specially trained to help people overcome their cravings. Consult a medical or dental professional for expert insight on how to quit tobacco. This could be the year that you finally kick the habit!
Practicing good oral health habits can help you avoid cavities, gum disease, and other oral health trouble. However, don't forget to visit your dentist in Columbus as well next year!
About the Author
Dr. Jayme Glamm is dedicated to helping patients achieve and maintain healthy smiles all year round. The proud Ohio State University graduate has been voted a Top Dentist by her peers for an impressive eight years in a row. For more oral care tips, visit the Third Street Dental website or call Dr. Glamm at 614-228-4850.
Comments Off

on 5 Simple New Year's Resolutions for a Healthier Smile
No Comments
No comments yet.
RSS feed for comments on this post.
Sorry, the comment form is closed at this time.